Services Provided:
UX/UI Design, Brand Identity
Team:
Emily Lin, Aiden Tomkinson, Kyla Chamberlain, Jacob Nagy, Isabelle Derocher, Alexia Henderson
Tools:
Adobe Illustrator, Figma, WordPress, Divi, JamBoard
Duration:
January 2022 – June 2022
Project Manager:
Dr. Kate Birdsall
Giving Tree Farm provides vocational training and a rehabilitation program for cognitively impaired persons. People who have sustained Traumatic Brain Injuries help grow fresh produce and make handmade items for local restaurants, grocery stores, and farmers markets. While the farm is owned by Community Based Interventions (CBI), the client wanted a new space that would highlight the farm and introduce a new way for customers to easily purchase produce.
Giving Tree Farm can grow its business which will also help the workers recovering from traumatic brain injuries.
With a new image and easier access to purchasing produce, customers will have more incentive to shop.
Highlighting the mission creates a stronger sense of community as more people become regular customers.
E-commerce opens another opportunity to engage with customers instead of being limited to traditional interactions.
Purchasing produce online is an inconvenient, tedious process for both the client and the users. Giving Tree Farm needs a website that highlights the farm's mission, connects with the community, and makes preordering easy.
The major issues our client was experiencing were ultimately centered around time, too many moving variables, and an unpredictable purchasing experience.
Giving Tree Farm is overall less expensive than its competitors and uses storytelling to highlight the TBI survivors. All competitors have a family/community focus, but none of them offer e-commerce. Refining GTF's identity and adding e-commerce opportunities will help the farm build a stronger connection with the community.
While researching our audience, we learned that users were feeling inconvenienced from availability problems, confused from a lack of direction, and frustrated with the interface experience.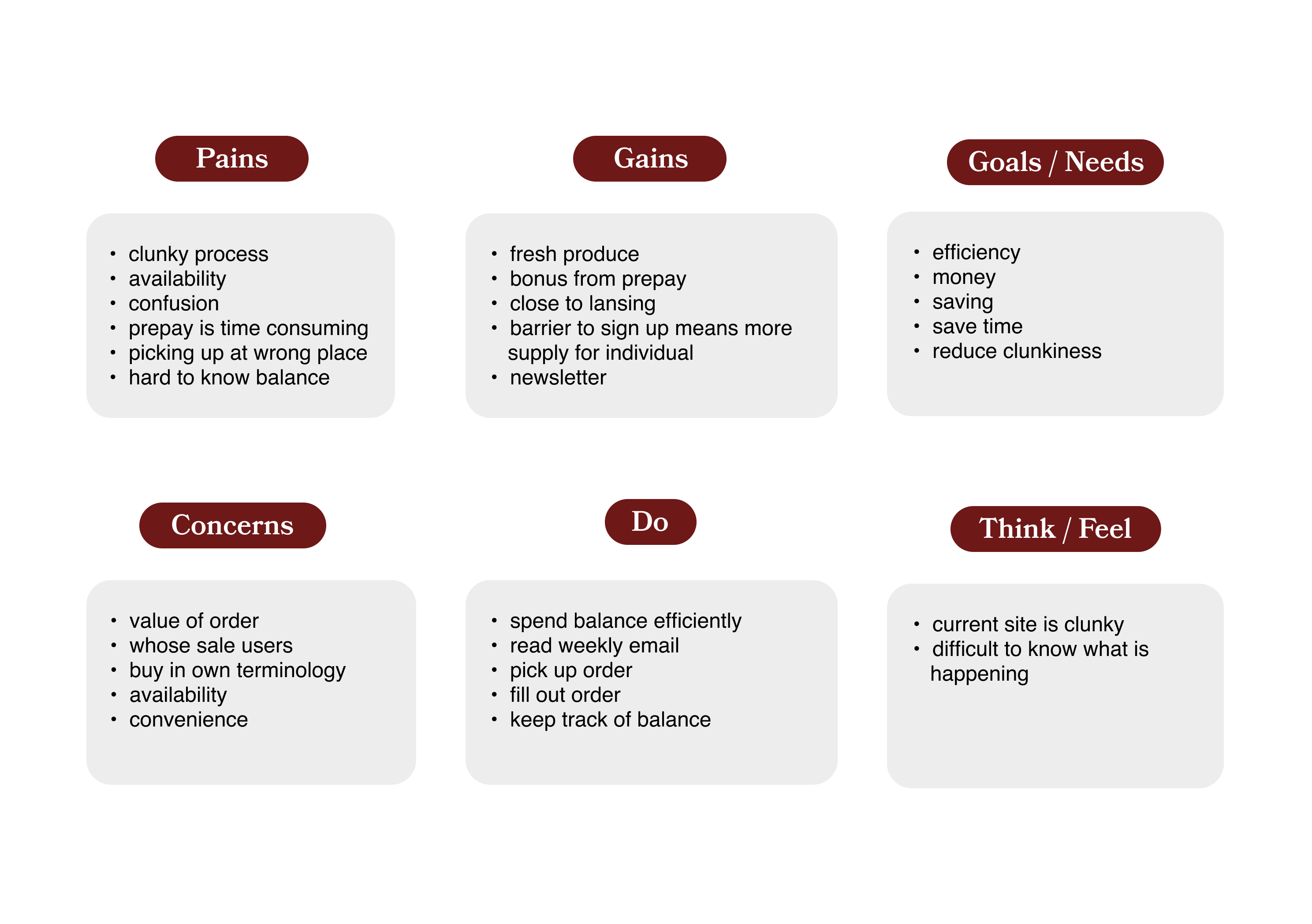 Our empathy maps and swim lane diagram guided our focus to refining the farm's brand identity and simplifying the steps necessary for purchasing produce.
Create a new website that gives GTF a space to grow without being overshadowed by CBI information. Develop new branding that highlights the farm's goals and overall tone –  naturally grown, community-oriented, and nurturing.
The audience is largely made up of people who aren't fluent with tech; create an e-commerce site that is simple for users to navigate without feeling overwhelmed. Creating an e-commerce site should make the customer's purchasing experience quick and convenient.
A lot of processes are being done manually (updating the budget, reminding people to pick up order)
Need to have control over who is able to put in orders (if demand overcomes supply), deny deliveries that would be too difficult, keep inventory updated
Reduce "clunkiness" of ecommerce process; get the same benefits as the sign up form, but w/o so many steps (prepay, filling out the form first)
Website needs to be easy to maintain/update since it will usually be done by people without any web dev experience
Would like a convenient way to remind clients they have a produce pickup (clients also get confused on pickup location)
Wants inventory to be mostly self-sufficient (doesn't need to update it every week)
Hates prepay function (woocommerce is our friend)
Site sustainability and inventory sustainability through different seasons (rotating inventory?)
Want to articulate GTF as a nonprofit
Optimize for people with minimal tech experience to update
Doesn't know what people actually want in terms of e-commerce
Wants to communicate with customers but doesn't have a good way to do it
Reduce steps it takes to order vegetables, make the task of getting to ecommerce more intuitive and reduce wordiness
Improve communications with customers without overloading them with links
Find a way to efficiently update inventory as sales are made that is intuitive for employees
Find way to communicate order status with customers
Consider addressing the current system for contact information; no clear goals
Newsletter still holds importance to Matthew
We need to use storytelling to build a connection with customers/keep their business
CBI needs to be connected but not in the spotlight
Is there a feasible way to address his issue of "top number of people"
Too many processes are done manually
The experience feels clunky
The site needs to be functional with each season's new inventory
GTF's mission and values need to stand out
Maintain the newsletter in addition to e-commerce
Need self-sufficient inventory
Improve order communication with customers
Case Study written by Isabelle Derocher and Aiden Tomkinson