The Current publishes full quarterly issues and regular online exclusives. Our vision is to cultivate an exceptional experiential learning environment for students, where they can perfect their digital publishing portfolios. The Current is East Lansing's only full-color arts-and-culture magazine developed for and by Michigan State University students. We publish with a unique and authentic voice. Each semester's staff brings new ideas to the table, evolving our magazine with each edition.
Each semester, between 10-20 students enroll in WRA 480, the class dedicated to The Current. Students agree on community norms, outline goals, and set deadlines for the month ahead. Writers and editors learn how to write to The Current's brand and voice and to use AP style. Webmasters learn how to use WordPress to publish 3-4 weekly online exclusives, and the social media team develops and runs campaigns each semester.
Our goal at The Current is to publish a magazine reporting on the arts & culture interests of our staff and students, amplifying their voices and experiences.
 
We pitch for, write, edit, and lay out two issues per semester. Staff are divided into writing and editing teams, and each student is on one team for one issue and the other for the next. Writers pitch two article ideas, receive feedback, then develop those ideas into articles. Articles are then taken through two rounds each of developmental editing and copyediting to ensure consistency and quality. 
The primary challenge is to achieve the spread length and quality standards we set for our print articles. Print articles require in-depth interviews and research beyond the digital sources expected for online exclusives. This challenge is addressed through an extra round of both developmental and copy edits to give writers extra feedback during their resolve periods. The editing intern/mentor is also responsible for checking the final copy of each piece before publishing, to catch any quality issues potentially missed by previous editors.
Staff write and edit two online exclusives (OEs) per month. They pitch to the team, receive feedback, write, edit, and publish. Each of these stages of development are logged in a detailed tracking sheet to meet deadlines. 
A challenge with OEs is that the deadlines often overlap with the two print magazine editions developed in a semester. To address this, writers and editors often assist each other to meet deadlines. Such teamwork inspires trust and communication among team members, which in turn generates reliability and responsibility down the line.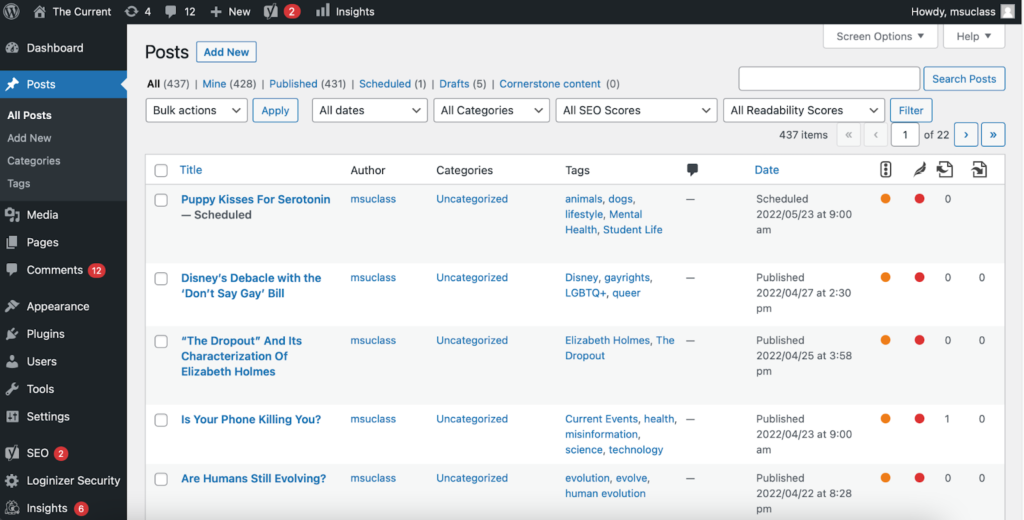 The Current's social media is run by a small team of students. Posts range from online exclusive and magazine releases to staff campaigns and reposted content from The Cube and other relevant accounts.
Online Exclusives are uploaded to The Current's website by a small team of students. The posting process includes formatting the articles to post in WordPress, uploading images and assigning alt text, and satisfying the SEO requirements. Once the article is prepared for publication, it is tagged for visibility and scheduled. Print articles are converted to this same format to make the pieces accessible by screen readers.
The future of The Current is to continue to grow, change, and produce engaging, quality content while cultivating student success.
The Current grows and shifts each semester with the unique perspectives brought to the team by each group of students. The success of The Current relies on its experiential learning model—by providing a safe, hands-on learning environment, we uphold our values, which are to:
Generate content that is professional, relevant and engaging;
Examine current events, topics and issues through an accurate and unbiased lens;
Provide students with meaningful professional writing experiences;
Maintain consistency of brand and voice;
Engage with campus, local and statewide communities;
Learn and uphold professional and ethical  methods of communication and journalism